about StringSeeds Academy
Music Education that lasts a lifetime!
Learning to play the violin, viola, cello or bass reinforces a child's ability to focus, and helps them build more confidence and self esteem. Plus, utilizing the Suzuki Method also builds socialization, cooperation, caring, team building, leadership and personal character. In addition, Suzuki students gain unique access to a host of educational and performance opportunities across the US and throughout the world.  By sharing an "in common" approach that uses authorized Suzuki materials, StringSeeds students create lifelong friendships with students from other Suzuki programs.  More information on opportunities available in this hemisphere, visit Suzuki Association of the Americas. 
With their decades of teaching experience, violinist Wendy Zohar and cellist Thor Sigurdson offer Ann Arbor-area children access to the highest quality music education available. Getting kids engaged early in a creative and disciplined activity like string playing (especially before their busy schedules become too full) offers them skills they'll utilize in every facet of their lives. 

What makes Suzuki successful? 
The heart and soul of the Suzuki Method is the Suzuki Triangle: the teacher, the parent, and the student.  At StringSeeds, we believe that a child's satisfaction and success are tied to a strong and unified network of support and healthy motivation, and that helping kids feel connected to their lessons while practicing at home is a core responsibility of parents.  Once the child is ready to play an actual instrument, we highly encourage parents to procure an instrument to learn on for themselves, and thus enable parents to speak to their child with an informed confidence that encourages 1) building a loving connection between the child and their musical path, and 2) establishing a consistent routine in their practice that prevents needless frustration.
In addition, Suzuki has always distinguished itself from other learning methods in the way that it motivates kids to practice using innovative games. Most parents assume that learning an instrument requires hours and hours of mindless repetition and agonizing amounts of discipline, - and that real success is limited only to those kids with "inherited talent." For over 75 years, the Suzuki approach has proven such assumptions to be quite mistaken. 
Approaches to music education that center purely on competition can often cause a child to lose interest, give up, become alienated from music studies, and potentially miss out on a lifetime of musical enjoyment and enrichment. Instead, StringSeeds focuses on nuturing a child's innate attraction to beauty and quality.
Regarding talent, the Suzuki approach is based on the proposition that every child is born with an innate ability to 1) recognize the qualities of beauty and artistic integrity, and 2) perceive and create beautiful sounds on a musical instrument. More information on what specifically differentiates this method from other methods can be found HERE. 

The real secret is the GAMES!! At StringSeeds, we break down otherwise difficult, complex actions into small, simple, achievable steps, and we do this using games and enjoyable activities which both challenge and entertain. Step by step, children build strong foundational skills necessary to play a string instrument at the highest levels. 
     ~          ~          ~          ~          ~          ~          ~          ~          ~          ~          ~          ~          ~ 

Highlights of the Suzuki Method with Miss Wendy and Mr Thor include:
• Expert training to help parents assist and support their children as they learn
• Games used in class and at home (so kids love to practice!)
• Regular recitals offering crucial performance skills (that apply to more than music)
• Dynamic group lessons that build listening, socialization, and cooperation skills
At StringSeeds, we develop a lifelong passion for music making and earned success! 

"Suzuki is FAMILY FUN! "

"Parents learn together with their kids! "

What could be better than building even stronger bonds between parent and child?  Having "practice time" become "family music time" results in children creating stronger ties with the grownups who join them in the fun!  Group Lessons have great socialization benefits and encourage kids to learn from each other.  Recitals are opportunities for kids to show how wonderfully they're able to connect with audiences (and one another) to express joy and to share their love of music. 

StringSeeds Academy 
StringSeeds is a dynamic new early childhood music program utilizing Suzuki, Dalcroze, Rolland and Kodály methods to offer young kids the very best combination of sound and movement. Since 1945, parents have trusted the Suzuki Method for kids as young as three to enjoy learning a string instrument! 
 
LOCATIONS:
Our private lessons and group classes take place at the homes of our faculty members, in area preschool classrooms, and at our teaching studio housed within the Northside Community Church.  Contact Us to setup an informational meeting!
Faculty Biographies
"Hearing Wendy's recital, when I closed my eyes it sounded like [Pinchas] Zukerman playing." Prof. Norman Paulu, Pro Arte Quartet, University of Wisconsin.  
Wendy has maintained an active violin and viola studio throughout her professional career, where she has taught students from age 3 through 83, while continuing to be a performing musician. Many of her students have won leadership positions in their orchestras and top marks in solo competitions, and have continued their musical pursuits with distinction. A registered Suzuki violin teacher, she incorporates the teachings of Galamian and Gingold as well as physical, kinesthetic, and singing concepts of Rolland, Dalcroze and Kodály. She creates innovative games that teach music theory, ear training, improvisation, composition and fiddling. Students look forward to her group classes!  
Wendy is an active member of the Suzuki Association of the Americas (SAA), the American String Teachers Association and its Michigan affiliate, MASTA, and MMTA, the Michigan chapter of MTNA, Music Teachers National Association. She earned a Bachelor of Music degree from the College-Conservatory of Music, U. Cincinnati; a Master of Music degree from the School of Music, U. Wisconsin Madison; an Advanced Degree in the Kodály Approach to Music Education from the British Kodály Academy, London; and a J.D. from Cleveland-Marshall College of Law, CSU. Her Suzuki registered training covers all books 1 through 10, plus many supplemental courses.  
Wendy was a long time member of the Jerusalem Symphony Orchestra, the Primavera Chamber Orchestra of London, has performed with the Ann Arbor Symphony Orchestra, the Saginaw Bay Symphony Orchestra, the Cleveland Chamber Symphony, and other orchestras in the US, Europe and Israel. Conductors she's played under include Rudolf Barshai, Sir Neville Marriner, Walter Susskind, Paul Paray, Mehli Mehta, Dmitri Markevitch and the creator of music to The Godfather, Anton Coppola. Artists with whom she has performed include Mstislav Rostropovich and Galina Vishnevskaya, Isaac Stern, Henryk Szeryng, Itzhak Perlman, Pinchas Zukerman, Yehudi Menuhin, Luciano Pavarotti, Jan Peerce, Leontyne Price, Arthur Rubinstein, Claudio Arrau, Mischa Maisky, the Three Tenors (Pavarotti, Domingo and Carreras), and popular artists including the Moody Blues, Mannheim Steamroller, Yanni, Al Jarreau, Arik Einstein and Tzvika Pik.  
Among Wendy's creative pursuits is musical composition, and her scores for plays and films have been performed on the London "Fringe" (theater scene) and in Cleveland for large public events. She is also a juried visual artist, and a singer/songwriter/song-leader who accompanies herself on the guitar. She feels that singing is key to nurturing a child's musicianship, regardless of which instruments they may pursue. Moreover, Wendy believes that an early exposure to singing can lead to a child's greater hearing of pitch, as well as building expressiveness, confidence, neural plasticity, and social connectedness throughout life.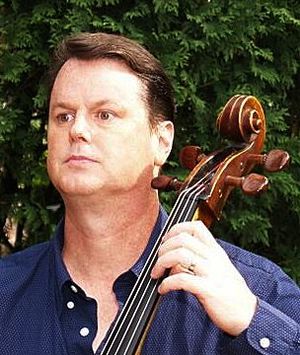 Described recently as "red-hot" by Chicago Classical Review, cellist Thor Sigurdson has been thrilling audiences worldwide for over three decades with his unmistakably committed performances. The New York Times has singled him out for his "evocative, poised playing", and Fort Lauderdale Sun Sentinel has exclaimed, "Sigurdson is a dynamic player. He carves out phrases passionately. His technique is more than respectable; his tone is juicy."  
Thor received his bachelor's degree from The Juilliard School as one of the final students of the great Leonard Rose. Upon graduation, he was among the first cellists selected by Michael Tilson Thomas to perform in Miami's celebrated New World Symphony, an ensemble with which he performed and toured internationally for three seasons. He was subsequently hired as Associate Principal Cellist of the Florida Philharmonic, a post he held for 13 years, finishing his tenure as Principal Cellist. Over his 25-year orchestral career, he performed under dozens of legendary maestros, including Leonard Bernstein, Sir Georg Solti, and Seiji Ozawa. As a soloist and chamber musician he was a finalist in both the National Society of Arts and Letters Cello Competition and the Osaka International Chamber Music Competition.  
Throughout his life, Thor has always been a passionate advocate for young musicians, and he currently maintains a full teaching roster of both cello and double bass students. His past pupils have gone on to successful careers in both music performance and music education. He's also an experienced orchestral conductor, and he dedicates himself to working closely with youth orchestras wherever his career leads him.  
Sought after as a superb studio musician, Thor's cello solos have been featured on albums by Gloria Estefan, Extreme, Collective Soul, Zakk Wylde, Plácido Domingo, and many others. For over 20 years he's had the honor of being a voting member of the National Academy of Recording Arts and Sciences, which presents the annual Grammy Awards. His own debut recording of favorite cello solos with harpist Nichole Luchs, entitled After a Dream, is now available.  
Thor recently relocated his family to Ann Arbor, where his wife is earning a PhD in Social Work and Anthropology.  And while he's excited to pursue his solo cello career in earnest, his first priority is training and nurturing young musicians in the Ann Arbor area.  
A Winning Team  
Wendy and Thor are both full-time musicians and music educators, and they devote the highest level of commitment to their teaching. Each of them passionately believes in the power of music to shape the lives of young children in ways that can prepare them for success in every avenue of their lives. As a team, Wendy and Thor will be collaborating on every aspect of the StringSeeds curricula, thus ensuring that each student is joined by a common educational thread that binds the program together. Plans for a dynamic and all-inclusive Early-Childhood Youth Orchestra are already underway!